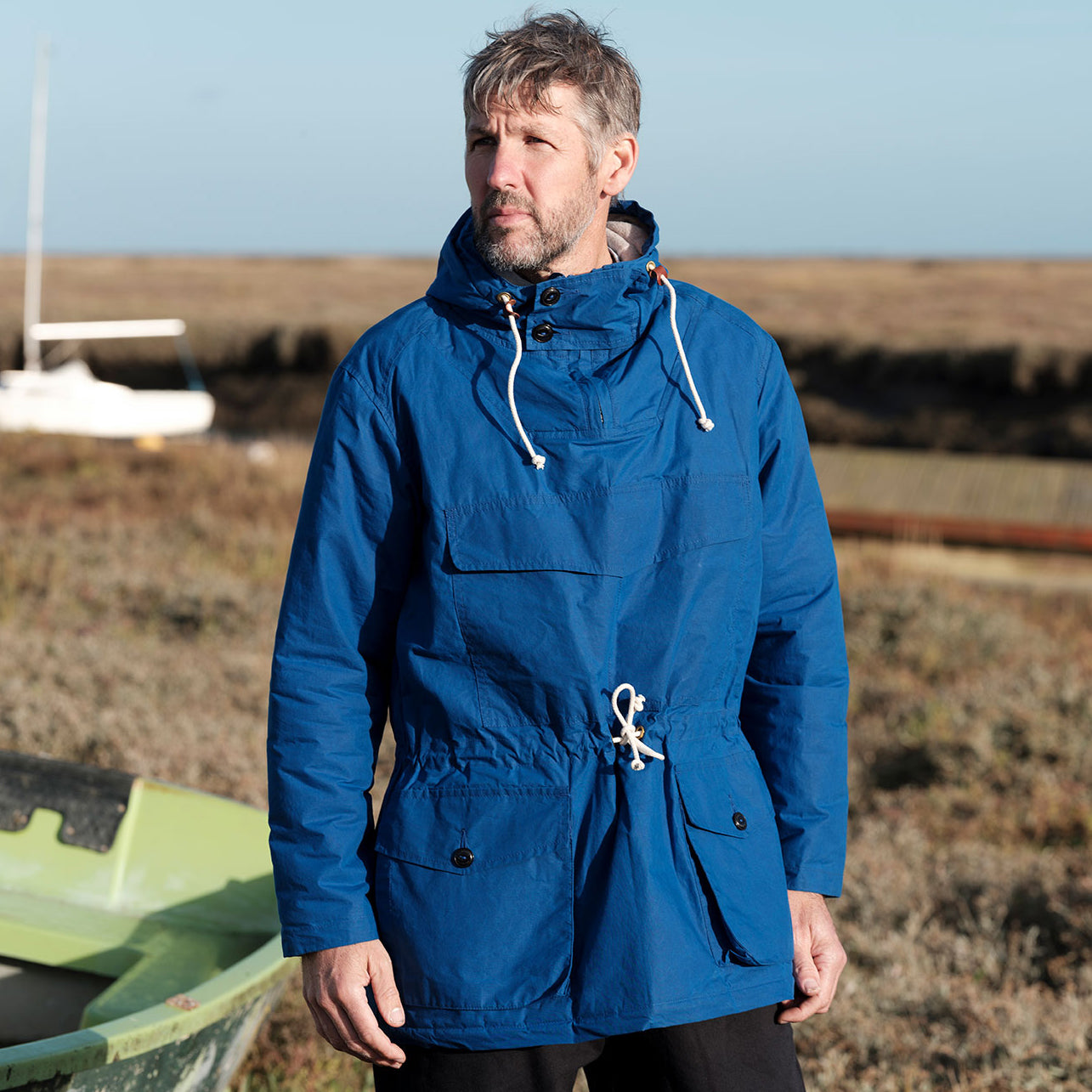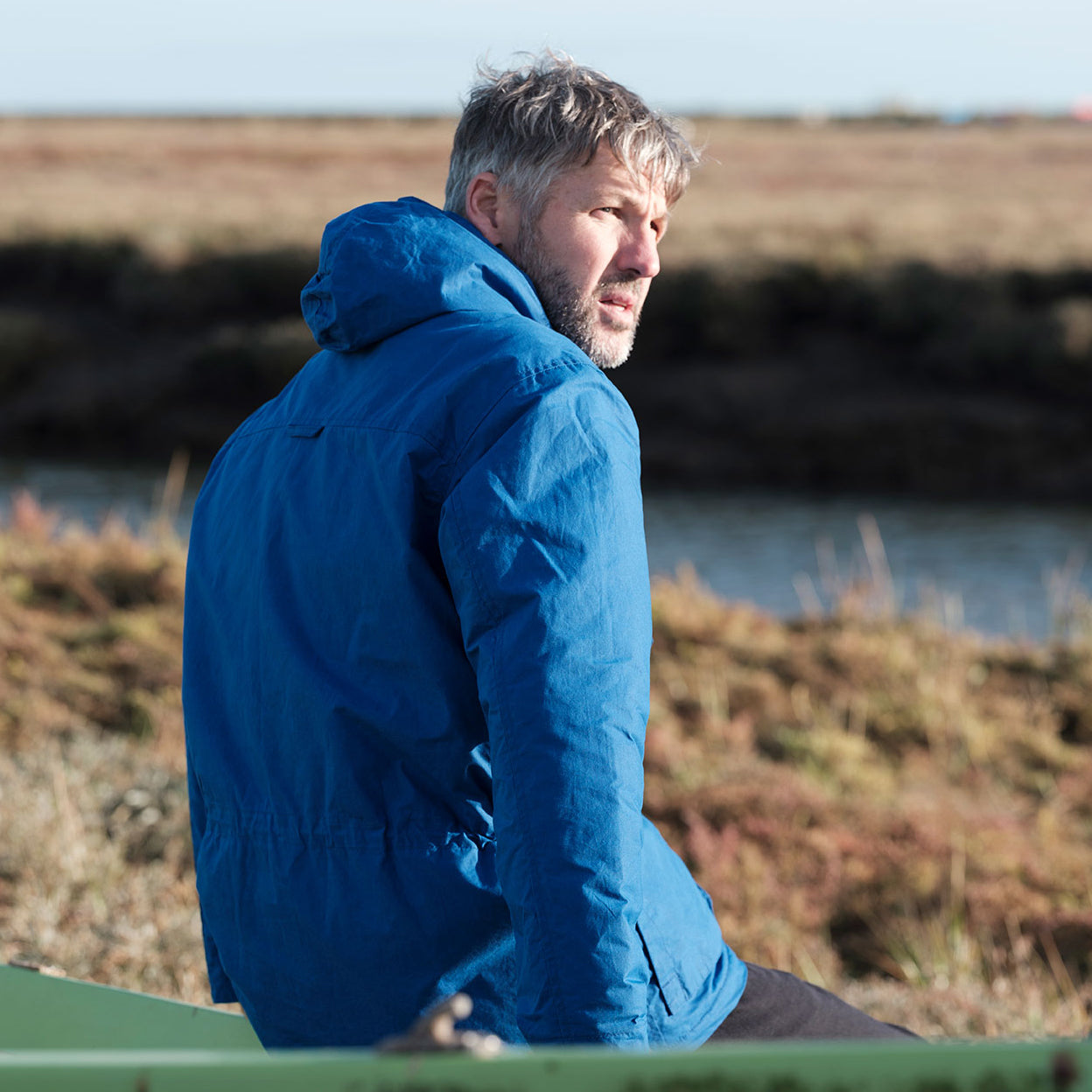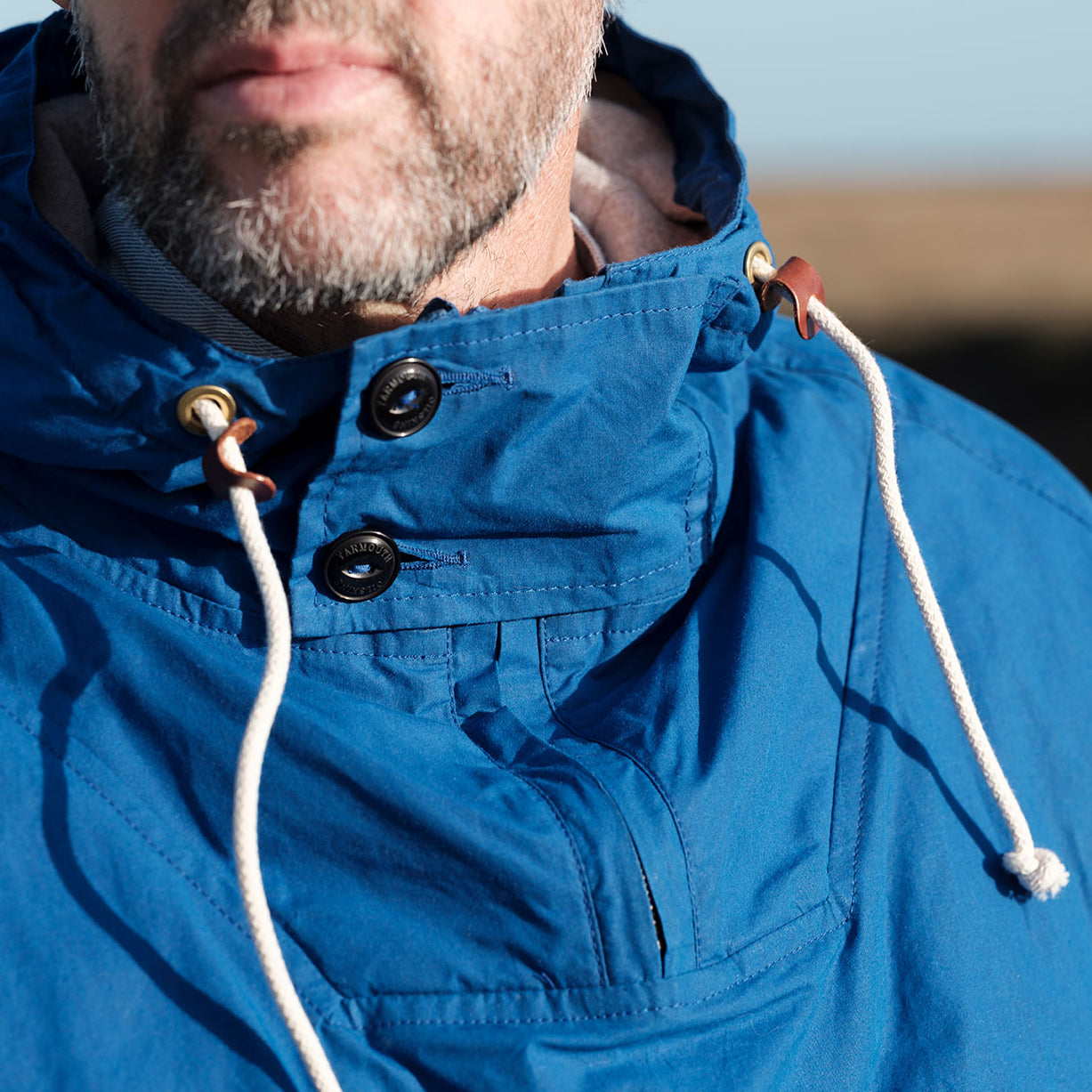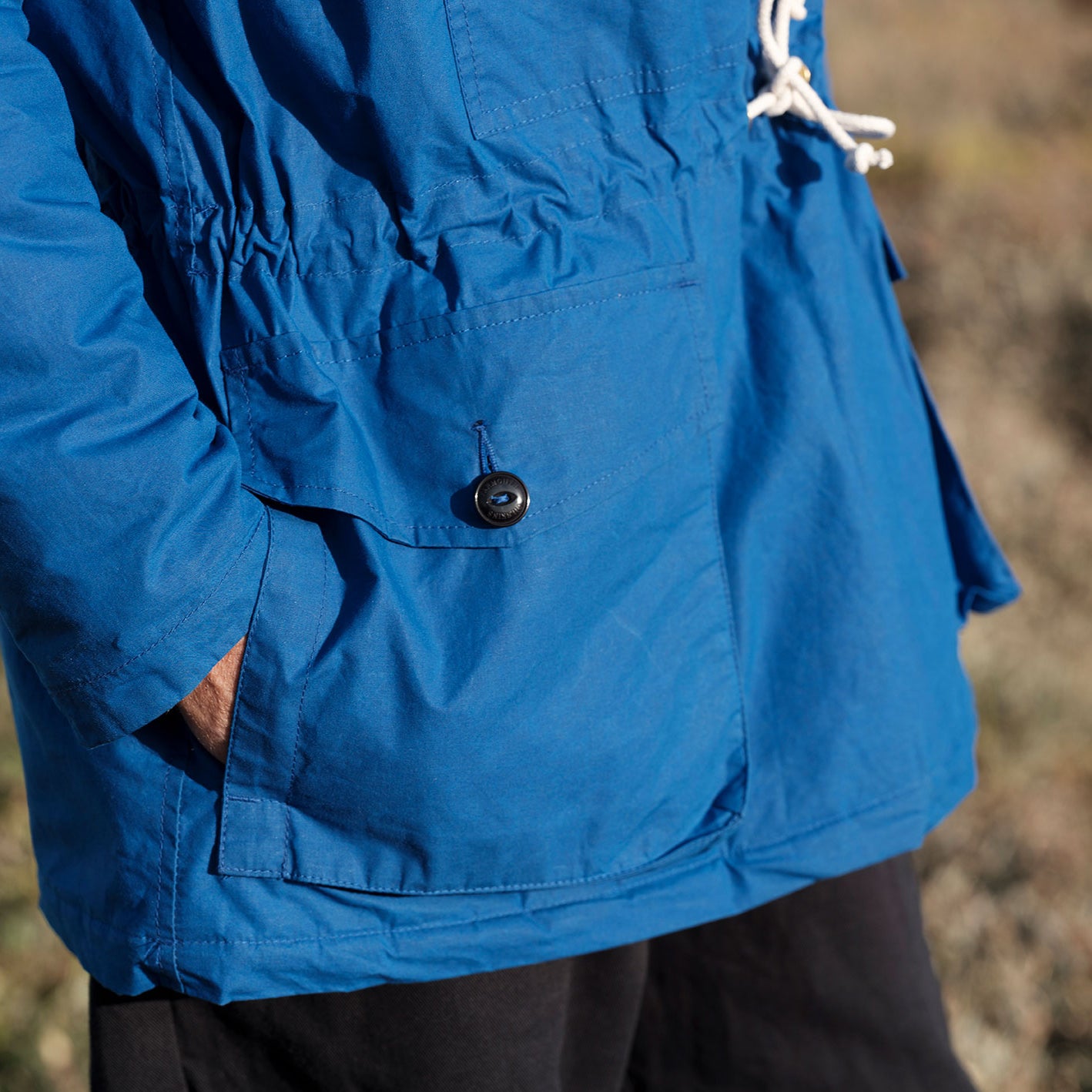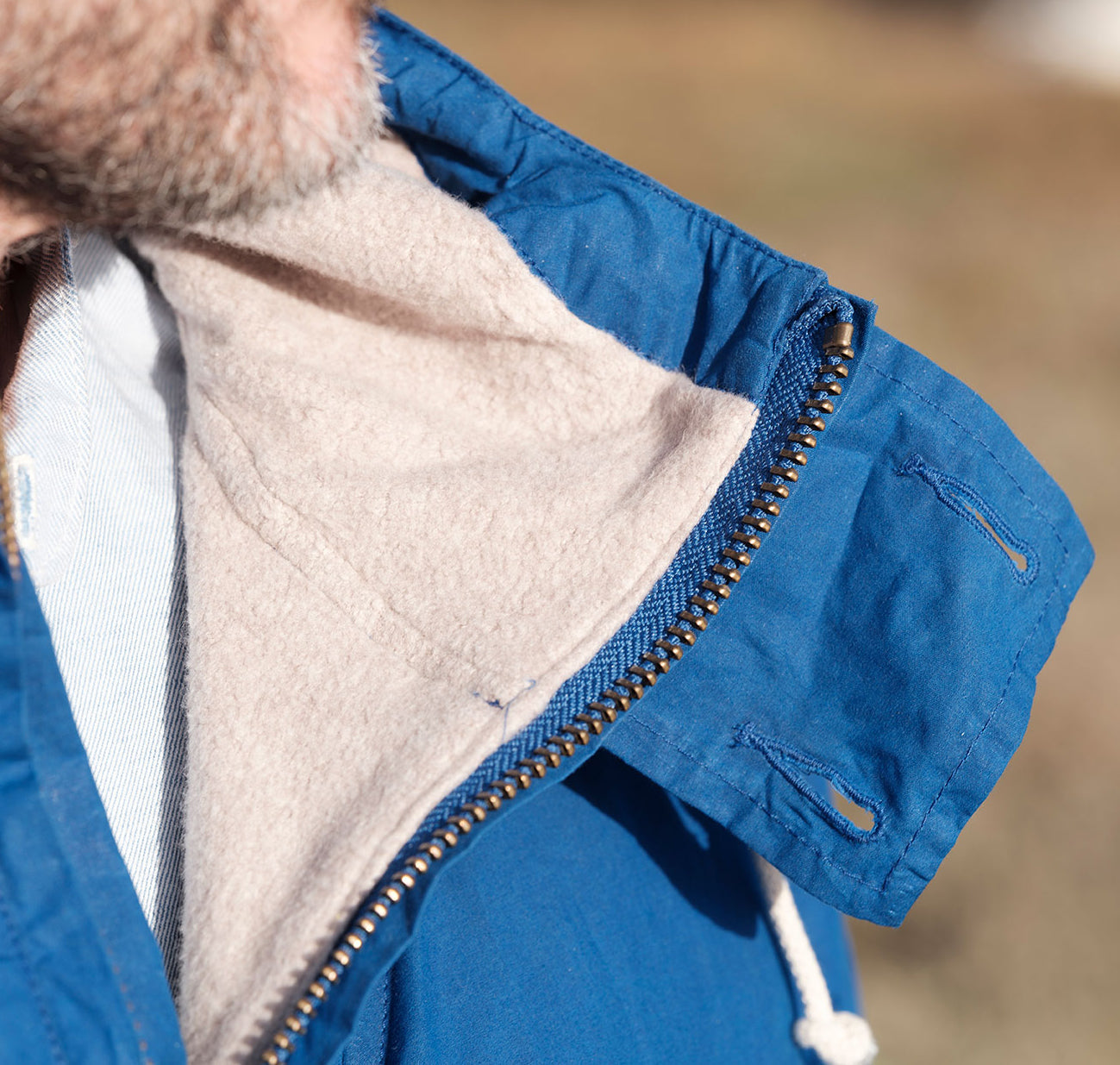 The Explorer Smock
Cobalt
The Explorer Smock pays homage to those worn by the great explorers from days gone by. For this edition we have used a modern dry wax from famed mill Halley Stevensons as well as natural fibres throughout including wool quilting.
This Cobalt colour way is ideal when you need to visible or in glacial settings.

All the Explorer Smocks are sequentially numbered by the maker on the inside label as they leave the sewing room .
Made in Great Yarmouth Great Britain
Yarmouth Stores have manufactured Oilskin clothing for well over 100 years. Originally oilskin dressing was applied by hand to cotton calico in-house in our factory in Great Yarmouth. It's documented that in 1953 the factory would produce around 2000 oilskin garments per week. Smocks have always featured in our catalogue as practical garments, worn layered whilst working outdoors. The lack of a front opening reduced drafts and meant there was less fabric to get in the way whilst working.

We've always made smocks in 'safety colours' allowing the wearer to be seen in an emergency, but also in more muted colours when the wearer needs to blend in with the environment.
The Explorer Smock is designed using all natural fibres to create a wind and weatherproof smock that will keep the wearer warm using all traditional sustainable fabrics. We have tried to create a long lasting product with minimal impact on the planet using carefully sourced, traceable materials.

The Smock is made from a modern lightweight dry wax fabric, produced in Dundee by one of Britain's oldest wax cloth mills. The emulsified wax finish cloth is lightweight breathable and weather repellent. It offers a soft tumbled appearance, keeping all the character of natural cotton. The patina will develop over time and just get better and better. The wax naturally picks up marks and creases through use, which adds to the character of the fabric itself.

The Smock is lined with quilting using 100% wool wadding for natural warmth and insulation ,and a lightweight cotton, stitched in Lancashire, UK. The hood and neck are lined with 100% organic cotton fleece, a more sustainable alternative to synthetic polar fleece, yet with all the same insulating properties and incredible softness.

We use cotton draw cord at the neck and waist, woven by a nearby rope maker that normally suppliers local ship chandleries.

The Leather cord adjusters are specifically designed and made for Yarmouth Oilskins in the Midlands, UK.

The smock also features our fish eye corozo buttons made in the Cotswolds UK.

There's a generous front map pocket with a storm flap at the chest and 2 front fleece lined pockets with multi-use openings at the top and sides.
The waist can be adjusted for fit with a draw cord tie.
We advise not to wash the Explorer Smock but to allow it to air naturally, and develop its own natural patina over time. Any serious marks should be spot cleaned. We also advise lightly misting the inside of the garment with our Garment Refresher to keep it fresh.

It's waxed properties can be rejuvenated over time with the Wax Spray.